Sports Rehabilitation & Physical Therapy in New York City & Huntington, Long Island
The Best Athletes in New York Count on Our Physical Therapists
If your head is in the game but your body needs help catching up, we can help. Lifestyle Physical Therapy has helped athletes get back in the game since 2017. Through a combination of cutting-edge techniques and research-backed methods, our team's goal is to help athletes return to their sports effectively and efficiently. Our physical therapists are highly skilled, experienced, and trained to deliver fast, fun and effective results to athletes of all skill levels. These one-on-one, individually tailored sessions are designed to help improve athletic performance and get you back in the game, even stronger than before your injury.
Contactthe professionals at Lifestyle Physical Therapyto schedule an appointment, or to learn more about our New York sports rehabilitation and physical therapy services.
Benefits of Sports Physical Therapy in New York
As an athlete, you know it's critical to get the right injury treatment in order to get back to peak performance as quickly as possible. Our sports PT services are specifically designed to help athletes recover from injuries and return to their previous level of activity. Sports PT can help to reduce pain, improve range of motion, and increase strength and endurance. It can also help to prevent future injuries by identifying and correcting any underlying problems. Look to us whether you're trying to get back into the game after an injury or just looking to stay ahead of the competition.
Here are some of the benefits of sport rehabilitation physical therapy in New York:
Pain Relief: One of the primary benefits of sport rehabilitation physical therapy is pain relief. Whether you are recovering from a minor sprain or a major surgery, physical therapy can help reduce pain and improve your range of motion.
Improved Function: Physical therapy can also help improve your functional abilities. By working on strength, flexibility, and coordination, physical therapy can help you move more easily and perform daily tasks with greater ease.
Faster Recovery: With the help of sport rehabilitation physical therapy, you can often recover faster from injuries and surgeries. Physical therapists use a variety of techniques to speed up the healing process and help you get back to your normal activities as quickly as possible.
Injury Prevention: Another key benefit of sport rehabilitation physical therapy is injury prevention. By identifying areas of weakness or imbalance in your body, physical therapists can create a personalized exercise program to help prevent future injuries.
Improved Performance: Physical therapy can also help improve your athletic performance. By working on strength, endurance, and flexibility, physical therapists can help you reach your full potential and perform at your best.
Personalized Care: Each person's body and injury is unique, and sport rehabilitation physical therapy offers a personalized approach to care. Physical therapists will work with you to develop a treatment plan that is tailored to your specific needs and goals.
Overall, sport rehabilitation physical therapy offers numerous benefits for athletes and active individuals in New York. By addressing pain, improving function, speeding up recovery, preventing future injuries, improving performance, and providing personalized care, physical therapy can help you get back to doing what you love.
Contact our professionalsat Lifestyle Physical Therapy in New York and Huntington for further information about our New York sports physical therapy and rehab services by calling (212) 577-9313.
Sports Injuries We Treat & The Methods We Use
We treat a variety of sports injuries, including but not limited to:
Post-operative musculoskeletal reconstruction (e.g. tendon or ligament tears or bone displacement)
Bone bruises
Concussions
Tendonitis
Sprains and strains
Rotator cuff tears
Disc herniations
And more
The following are some of the physical therapy techniques we use for sports rehabilitation:
Sport specific training
Targeted strengthening exercises
Neuromuscular Reeducation
Manual Therapy
Post-Surgical Strengthening
Electrical stimulation and ultrasound
Soft Tissue Manipulation
Proprioceptive Training
Plyometrics
Home exercise programs
And more!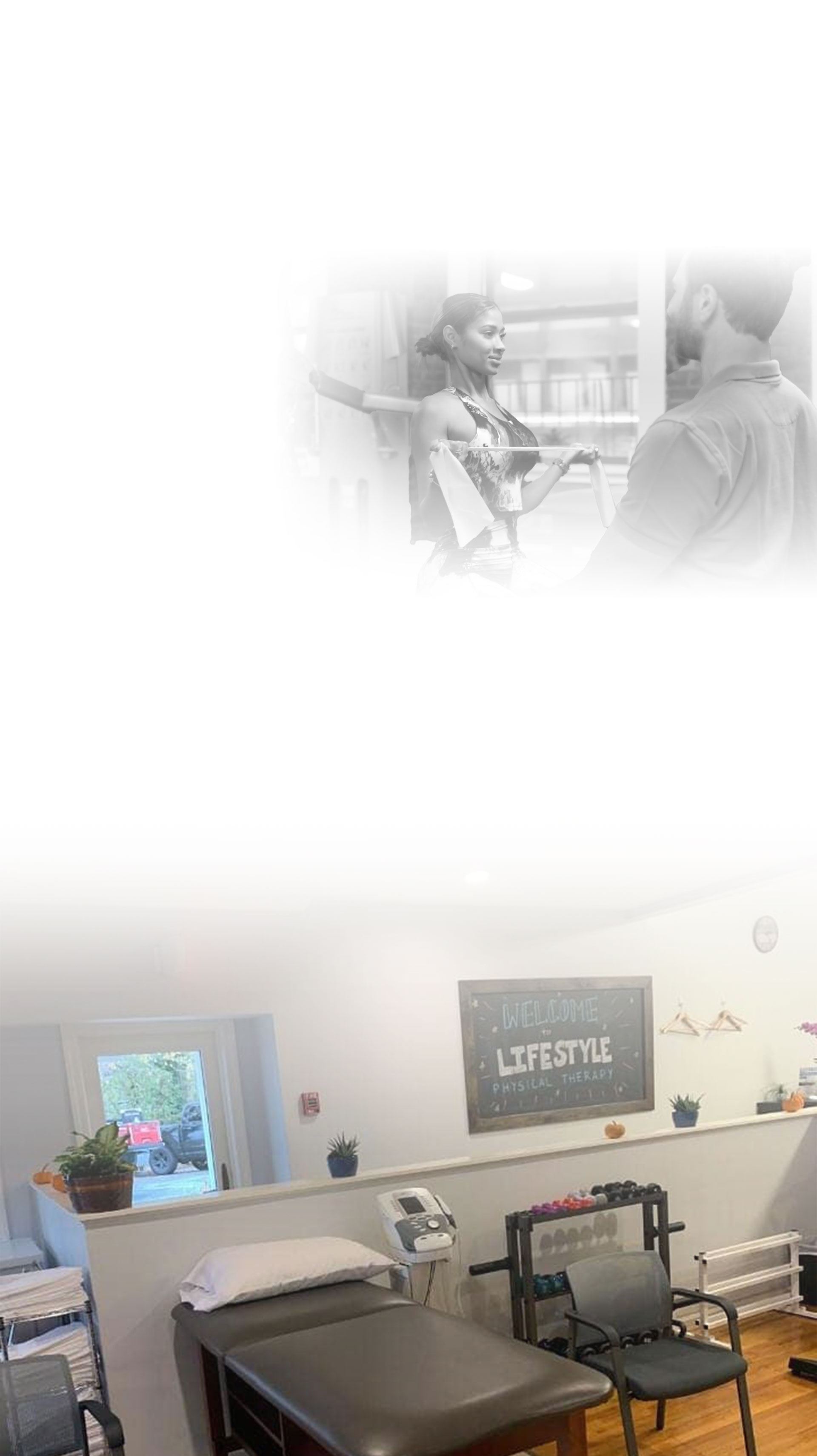 What Are You Waiting For? Get Back in the Game Sooner with Sports Rehabilitation Physical Therapy.
You don't have to sit on the sidelines longer than you must if you have the help of a physical therapist who is trained to help athletes like you recover from debilitating sports injuries. Our physical therapists at Lifestyle Physical Therapy have helped many people recover from a variety of injuries and ailments so they can get back to doing what they love.
We always individualize each patient's care plan because we realize no two patients have the same needs even if they suffer from the same condition. You can count on our team to get you back in action as quickly and safely as possible.
To contact our team at Lifestyle Physical Therapy, please call (212) 577-9313 or reach out online to schedule an appointment.
Latest Reviews Around the Block
She goes above and beyond for her clients and I leave every session feeling a million times better and well equipped to continue the improvements via a customized treatment plan. Alexis is such a warm, friendly and helpful person, I can't recommend h

- Eleanor D.

The personal attention and care he gives to his patients is unmatched in the field. He takes your concerns seriously and actually LISTENS to them unlike many other medical professionals.

- Alex G.

Time goes by so fast during every appointment! He also has his therapy pup in the office sometimes, and he's an absolute lovebug! Highly recommended!

- Jessica Y.

In my opinion, what really sets Matthew apart is his ability to pay attention to the individual and understand each person's idiosyncratic needs. I cannot recommend him highly enough.

- Azi E.
Are You Ready
to Get Started?
Call Us at

212-577-9313

or Schedule Your Next Visit